Mobile air conditioner for immediate solution of air conditioning requirements without demanding and costly installation or in areas that do not allow building modifications (rented premises, monumental buildings, etc.).
Especially suitable for bedrooms, attics, offices, meeting rooms, cottages and cottages and everywhere where it is necessary to regulate the temperature on hot summer days to pleasant values.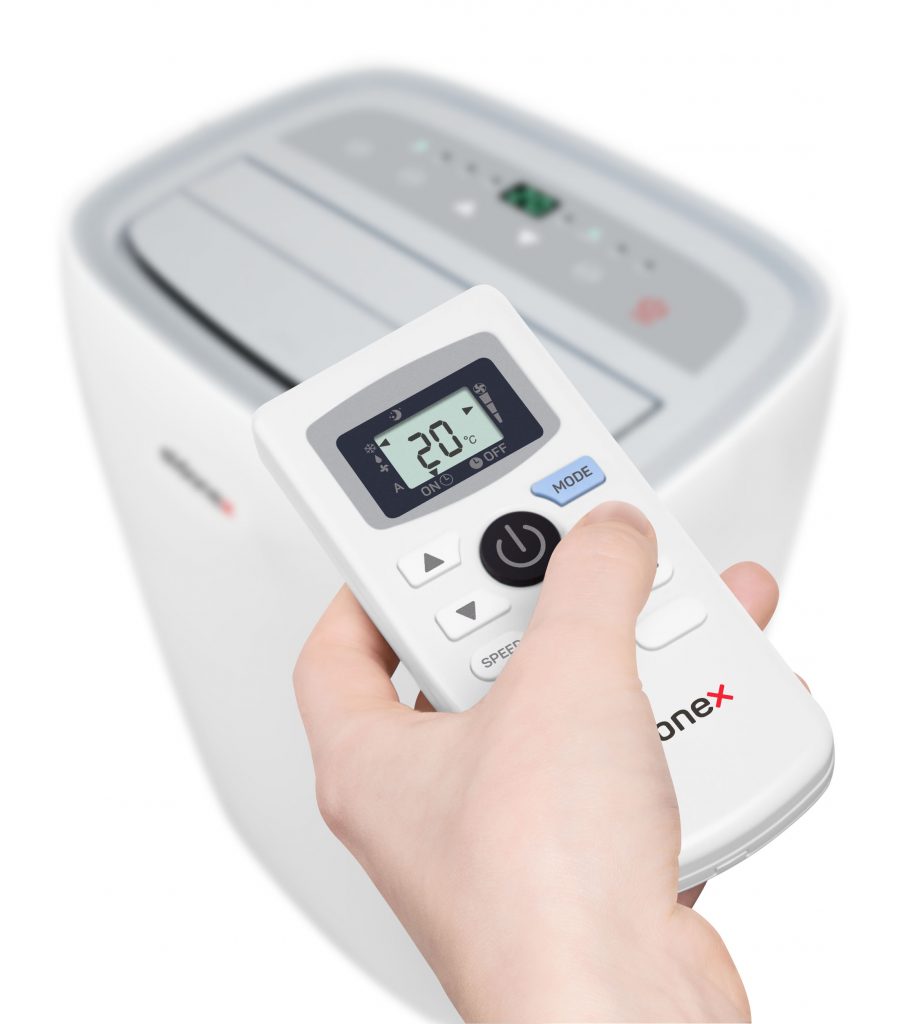 With an extremely low noise level of 45 dB (A), this model ranks among the top on the market. Operation thanks to the condensate self-evaporation technology does not require condensate pouring. Comfort is enhanced by a remote control with an LCD display offering the ability to control 100 % of all functions and display the set temperature. A nice addition is an integrated 24hour timer. Energy class A is a guarantee of minimum electricity consumption and low operating costs. The air conditioning is equipped with an automatic restart function as standard – in the event of an interruption in the power supply, it switches itself on after the power supply is restored and restores the last temperature setting and all other functions. SLEEP night mode with quiet operation and reduced display brightness automatically reduces noise by setting the fan speed to minimum and a special cooling mode prevents hypothermia during sleep (after 2 hours of operation the set temperature automatically increases by 1 ° C and after another hour increases by 1 The air conditioner then maintains this temperature). An indisputable advantage is also the minimum requirements for regular maintenance that do not require professional service (filter washing only).
No need for professional installation
Cooling capacity 9000 BTU / h (2800 W)
Recommended room area 12-20 m2
Possibility of setting the thermostat in the range of 18–32 ° C
Extremely quiet operation from 45 dB (A)
4 operating modes:
– cooling
– dehumidification (29 liters per day)
– separate fan function without air conditioning function
– automatic mode (selects cooling or fan mode according to the room temperature)
Condensate self-evaporation technology (no need to pour condensate)
Energy class A
The permanent washable air filter eliminates dust swirling and filters mechanical impurities
4 levels of airflow speed setting (low, medium, high + automatic)
Possibility of setting automatic regulation of air flow speed depending on room temperature (at temperatures above 23 ° C the cooling mode is automatically activated, at temperatures below 23 ° C it switches to fan mode without air conditioning function)
24hour timer for automatic on or off with steps of 30 minutes (in the range of 0.5- 10 hours) and after 1 hour (in the range of 10-24 hours)
SLEEP night mode with quiet operation and reduced display brightness automatically reduces noise by setting the fan speed to minimum and a special cooling mode prevents hypothermia during sleep (after 2 hours of operation the set temperature automatically increases by 1 ° C and after another hour increases by 1 ° C. Then the air conditioner continues to maintain this temperature)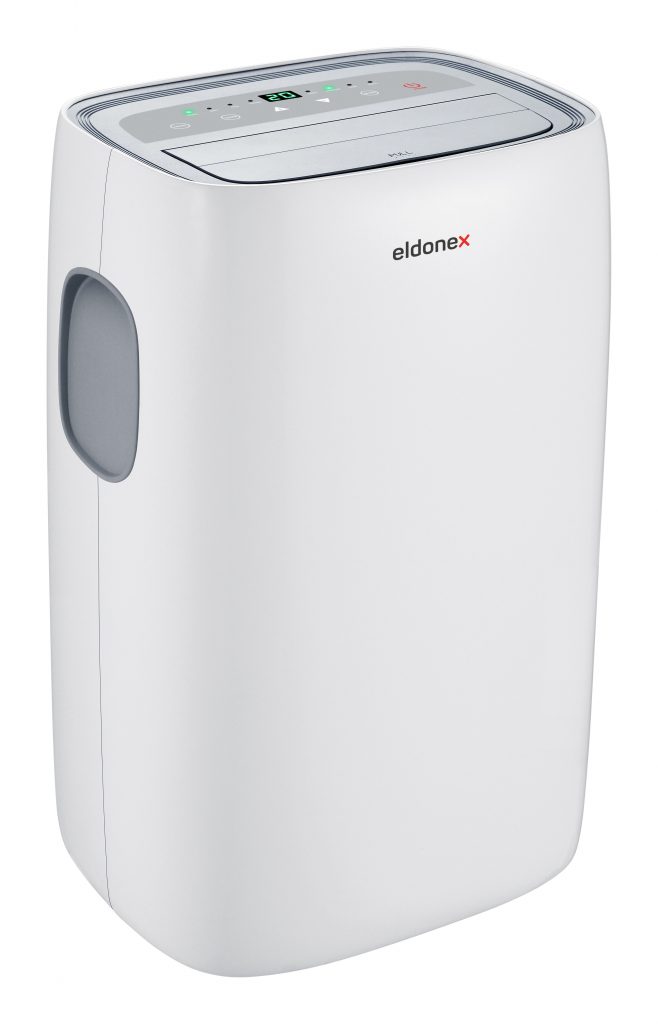 Functionality of the control panel with LED display:
– display of the set temperature
– display of the set on / off time for the timer
– cooling mode indication
– indication of dehumidification mode
– fan mode indication
– indication of active timer
– fan speed indication
– automatic mode indication
Ecological refrigerant gas R410A (CFC-free refrigerant with zero ozone decay coefficient)
Automatic restart function and restoration of the last selected Slat inclination adjustable to 3 positions (closed, partially open, fully open)
4 castors with supplied stops for fixing the travel
Two integrated side handles for easy travel and carrying
2 options for removing hot air from the room:
– over the wall, resp. construction hole
– through a window through a hole in the glass
Self-diagnostics with indication of error messages on the display
Package contents:
Air conditioning unit
Remote control (including 2 x 1.5V AAA batteries)
Detailed printed instructions for operation and installation in the Czech language
Flexible hose with variable length for hot air extraction (variable length 38-154 cm, diameter 13 cm)
Cuff for connecting the flexible hose to the air conditioning unit
Outlet sleeve with adapter and suction cups for installing a flexible hose in the window
Drainage hose for draining condensate
Condensate drain plug
Castors (2 pcs)
Technical data:
Recommended room volume: 31-53 m3
Recommended room area: 12-20 m2
Operating temperature (cooling mode): 18-32 ° C
Cooling capacity: 9000 BTU / h (2800 W)
Cooling power: 1070 W
Electricity consumption during cooling: 4.8 A
EER cooling factor: 2.62
Dehumidification capacity: 1.2 l / h
Refrigerant charge type and weight: R410A / 580 g
Flowing air volume: 300 m3 / h
Noise (max / mid / low): 53/48/45 dB (A)
Max. permissible value of excessive working pressure: suction / discharge part of the cooling circuit: 2.1 / 4.2 MPa
Dimensions of the air conditioning unit (W x H x D): 440 x 720 x 369 mm
Weight: 29 kg
Power supply: 220-240 V, 50 Hz